The Collingwood Centre
Please note The Collingwood carpark will become unavailable on Monday 23rd October until approximately June 2019. Please see the layout to confirm access points & restrictions to the Collingwood. Parking will be available on Oak Street, Barby Road and Dunchurch Road.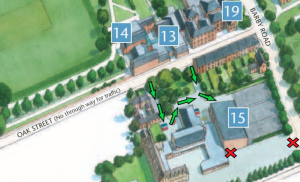 The Collingwood Centre is located on the site of the old Bishop Wulstan school. Additional parking is avaialble on Oak St.
St Philips 3 vs Hunters 2
St Philips 4 vs Hunters 2
St Philips 6 vs Hunters 3
St Philips 1 vs Hunters 1
St Philips 2 vs Hunters 1
St Philips 5 vs Hunters 3
St Philips 1 vs Hunters 2
St Philips 5 vs Hunters 4
St Philips 1 vs Hunters Cov 1
St Philips 4 vs Hunters 4